Campaign for ASA Early Career Leadership
Supporting the Next Generation of Leaders
ASA Foundation Fund Launches Major Fundraising Campaign
A primary goal of the ASA Strategic Leadership Plan for the Future is to expand promotion and participation by early career members in academics, industry, government, and consulting. Recent activities toward achieving this goal included an Early-Career Acousticians held in conjunction with the spring 2016 ASA meeting in Salt Lake City, a newly-implemented Early Career Travel Award to support attendance by early career members at ASA meetings, and an initiative to broadcast ASA meeting content over the internet which can help early career members who cannot attend meetings to stay connected.>
To further support the next generation of scientists and dedicated leaders in acoustics and the ASA, a new fellowship program, ASA Early Career Leadership Fellows, has been developed.  Early career acousticians who are selected for these fellowships must show commitment to ASA and to new personal endeavors that will reward the Society and enhance their personal growth as future leaders at the same time.  The plan is to award two fellowships annually, each on the order of $6,000, to support activities that enhance the Fellows' leadership skills and/or potential within their profession and within the ASA, as proposed by the applicants themselves.
The Acoustical Society Foundation Board has accepted the challenge of the fundraising campaign to support these Fellowships – named the Campaign for ASA Early Career Leadership: Supporting the Next Generation of Leaders – with a goal to raise $300,000 between October 2017 and May 2019
Contribution Categories
The contribution categories listed below reflect the desire to provide opportunities for all ASA members, new and old, to show their support to the Society, and to afford those with more resources the opportunities to be part of the future growth and envisioned future of the Society.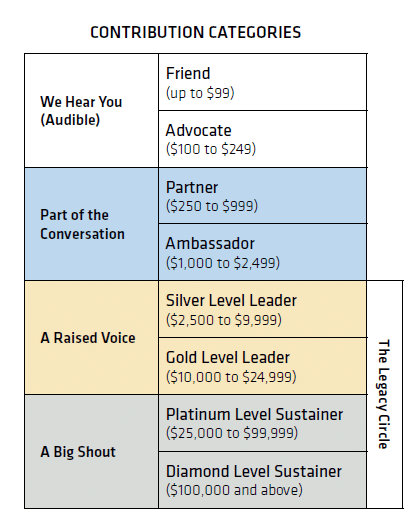 Contributions of any amount to the Campaign for ASA Early Career Leadership are now being accepted!
Click the link below to make a donation using your credit card or PAYPAL account.  You may also send a check made out to the Acoustical Society of America, with a note that the donation is specifically for this campaign:
The Campaign for ASA Early Career Leadership
c/o Acoustical Society of America
1305 Walt Whitman Rd, Suite 300
Melville, NY 11747-4300
All donations are tax-deductible and will be acknowledged by the ASA, a 501(c)3 organization.
Campaign Ad Hoc Committee
The following volunteers on the Campaign's ad hoc committee are excited to draw on the enthusiasm and support of ASA members to bring the goals of this campaign to fruition. Please contact any of the members for more information.
Co-Chairs
Carl J. Rosenberg
Members
Stan E. Dosso
Judy R. Dubno
Lauren R. Ronsse
Himanshu Shekar
Michael R. Stinson