Brand Adoption/Usage Toolkit for Members
ASA Brand Overview and Toolkit
ASA Begins New Era by Updating Its Logo
Updating the Acoustical Society of America's organizational identity was identified as a primary goal during the Strategic Planning Summit in Austin, Texas in 2015. A key component to this identity update is refreshing our logo after its inception more than 88 years ago.
Under the goal of building awareness of acoustics, Strategic Planning participants envisioned the following:
Scientists, practitioners and the public understand the importance and contributions of acoustics and ASA;
ASA is the face of acoustics with a modern brand – clear identity, mission and values;
ASA is considered the gold standard for acoustical science;
There is increased awareness and dissemination of ASA Standards;
ASA is a globally oriented scientific society;
By increasing ASA's visibility, it has grown internationally;
ASA has fostered relationships with other societies worldwide.
Since this grassroots member effort in 2015, the ASA Web Advisory Committee and Executive Council have undertaken an initiative to update the Acoustical Society logo. With the goal of paying tribute to our current logo and our wonderful interdisciplinary heritage, our refreshed master brand identity, unveiled on April 2, 2018, is modern, reflects our mission and represents the diversity of our 7,500 members worldwide.
New brand assets and brand guidelines can be found below.
---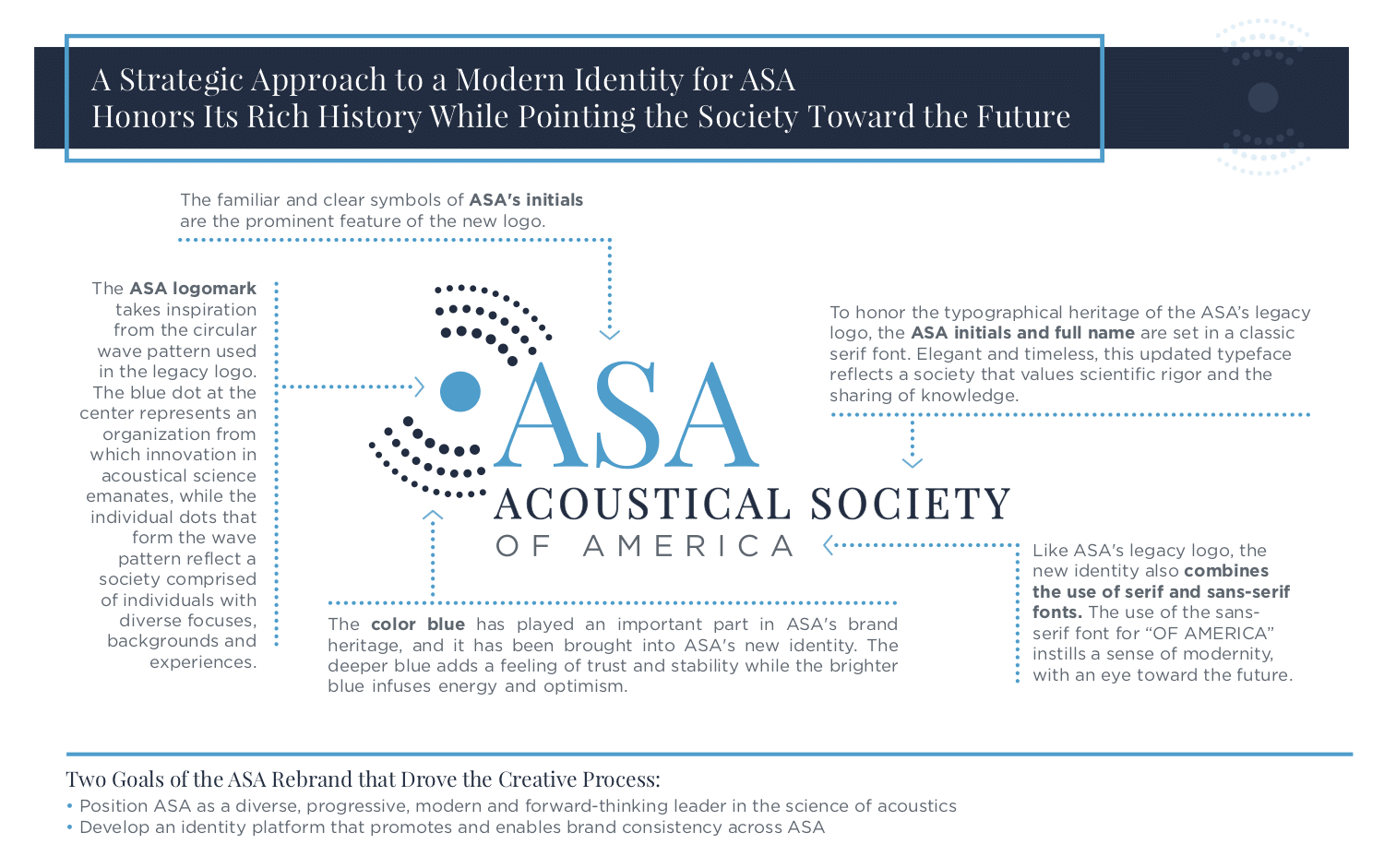 ---
Master Brand Files
The new ASA Master Brand is available in a number of configurations, colors and file formats (including .eps (vector), .png and .jpg). Click on the link below to download a zipped file containing all options. PLEASE NOTE: these files are NOT to be manipulated in any way, and you must adhere to the ASA Brand Guidelines, which are available below. Should you have any questions, please contact Dan Farrell, Web Office Manager, via email.
Zip files in eps, jpg and png format.  Font files in TTF OTF.
---
Master Brand Guidelines
The document below provides the necessary guidelines to ensure a strong, professional and consistent brand image for the Acoustical Society of America.
These guidelines cover the entirety of the ASA brand including the master brand logo system, color palette, typography, imagery and ASA's graphic style or identity system. Direction for both print and online usage is included.
The ASA brand guidelines should be followed when creating any communication for the organization. Every impression a member, program or communication makes under the name of the Acoustical Society of America will reflect on ASA. Any use of the ASA logo identity system or name should strengthen and reinforce our brand and reflect our mission and values.
Should you have any questions, please contact Dan Farrell, Web Office Manager, via email.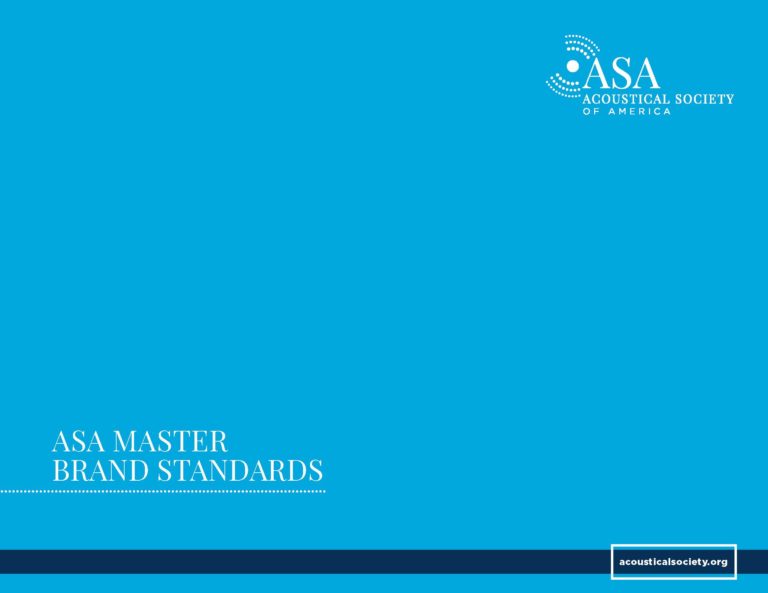 Download PDF ASA-Brand-Guidelines
---
Brand Basics Poster
We have prepared a convenient ASA "Brand Basics" poster that contains key color and size information, along with some additional brand details. It's a great tool to keep handy—you may download a PDF below.
Download PDF ASA Brand Poster
---
ASA Member Powerpoint Presentations
We have prepared a convenient ASA Powerpoint Template that contains key elements and several standard page layouts for member use.
Download PDF ASA Powerpoint Template
---
For any further information regarding use of the ASA brand and its copyright, please contact the ASA Web Development Office below.
DFARRELL@ACOUSTICALSOCIETY.ORG