Nashville
Meeting Announcement
and
Call for Papers
183rd Meeting
Grand Hyatt Nashville Hotel
Nashville, Tennessee
5–9 December 2022
Itinerary Planner – Schedule and Abstracts
Mobile App
Nashville PDF Program
Hybrid Special Sessions
Key Dates
| | |
| --- | --- |
| 25 July | Deadline for receipt of abstracts |
| September | Acceptance notices mailed |
| 7 November | Preregistration Deadline for in person attendance |
| 28 November | Registration Deadline for Remote attendance |
| 5 December | First day of Nashville meeting |
The Nashville meeting will be held as an in-person meeting with invited papers in several special sessions presented in hybrid format. Remote attendance at these hybrid special sessions will also be possible.
183rd Meeting Committee
Chair:  Veerle Keppens
Technical Program Chair:  Michael Haberman
Belmont University Technical Tour:  Scott Hawley and Doyuen Ko
Society Luncheon:  Ramnarayan Ramachandran
​
Table of Contents
Technical Program
Technical Program Calendar
Hybrid Sessions
POMA Student Paper Competition
Audio Visual and Special Equipment and Software
Other Technical Events and Information
Exhibit
Solutions Showcase
Tutorial on Effective Media Interactions
Hot Topics
Technical Tour to Belmont University
Open Meetings of Technical Committees
Proceedings of Meetings on Acoustics
Itinerary Planner, Mobile App, Meeting Program
Early Career Acousticians Retreat (EAR) 2022)
Funding Opportunities
Student Transportation Subsidies
Young Investigator Travel Grants
Dependent Care Subsidies
Student Activities
First-Time Attendee Orientation and Meet and Greet
Students' Reception
Students Meet Members for Lunch (SMMfL)
Student Outreach for Networking and Integrating Colleagues (SONIC) Program
Plenary Session, Awards Ceremony, Social Events, Luncheons
Social Hours
Women in Acoustics Luncheon
Society Luncheon and Lecture
Jam Session
Transportation and Travel Information
General Information
Room Sharing
Special Accessibility
Mothers Room
Accompanying Persons Program
Weather
TECHNICAL PROGRAM AND HYBRID SESSIONS
Nashville_calendar_for_web

HYBRID SPECIAL SESSIONS
Hybrid special sessions include invited papers that will be presented remotely along with in-person presentations.  Remote presentations will be delivered at scheduled times, either live or pre-recorded, via Zoom and projected onto the session room screen.   Remote presenters will be available to answer questions during a standard Q&A period.  In-person attendees may pose questions via a room microphone; remote attendees may pose written questions that are read aloud by the session chair or designated monitor.  All presentations in a hybrid session will be broadcast on zoom and will be accessible to remote attendees.  Registration for remote attendance is limited to the hybrid sessions.
Registration fees for remote presenters and participants are: Regular Registration: $150; Students: $50 and Nonmember Invited Speakers – Fee waived. There will be a $50 charge for remote registrations cancelled after 28 November.
Remote registrants will receive links to access all hybrid sessions in November.
The following special sessions will include invited papers that will be presented remotely along with in-person presentations.
R_Nashville_hybrid-sessions

POMA STUDENT PAPER COMPETITION
POMA is holding a society-wide student paper competition for a POMA submission based on a presentation or poster from the Nashville meeting.
Award Amounts: Up to five student papers will receive an award of USD$300. Additionally, the student paper winners will be noted on the POMA cover page and their article will be promoted in email and social media campaigns.
Qualifications:
To qualify for the award, an author must:
be enrolled as a student at least half-time (graduates are eligible if the presented work was performed as a student within one year of the meeting). Note that the student author does not need to be a member of the ASA to qualify.
be listed as the first author on the submitted abstract and POMA manuscript and present the paper at the meeting.
submit the POMA manuscript by the competition deadline, which is 30 days after the conclusion of the meeting. For this meeting, manuscripts must be submitted on or before 8 January 2023.
To enter: Indicate your paper is part of the POMA Student Paper Competition by selecting this option during the POMA submission process.
Selection: The papers will be rated by the POMA Associate Editor corresponding the technical area in which the paper was presented. The top related papers will be evaluated by the POMA Editor, POMA Assistant Editor, and POMA Manuscript Manager and up to five winning papers will be selected. Note that the paper judging will take place concurrently with the ordinary editorial review of a POMA submission; each judged paper will be returned with comments and a publication decision.
Additional Instructions
To ensure the article passes the initial quality check, please use either the MS Word or LaTeX manuscript templates and follow all manuscript preparation and submission instructions (https://asa.scitation.org/pma/authors/manuscript)Articles that do not pass the initial quality check are ineligible for the competition. See the submission checklist at the POMA Author Resources page.
The competition deadline is 11:59 pm Eastern Standard Time, 8 January 2023. Any manuscripts received after this will be considered for publication in POMA but will be ineligible for the competition.
Regardless of the competition outcome, the opportunity to publish an editor-reviewed proceedings paper will enhance your CV/resume and help you take an important intermediate step toward a full refereed publication.
AUDIO-VISUAL EQUIPMENT
PC computers with monaural audio playback capability, computer projectors, and laser pointers will be provided in all lecture sessions. All other equipment is considered special equipment. Refer to the "Special Equipment" section below for additional information. Mac computers will not be provided.
SPECIAL EQUIPMENT, COMPUTER EQUIPMENT, AND SOFTWARE
Any equipment other than PC computers with monaural audio playback capability, computer projectors, and laser pointers is "special equipment." Requests for special equipment (e.g., stereo sound, special speakers) must be specified at the time of abstract submission. Provision of unusual special equipment will depend upon availability and cost. Special software requests should also be made, if required.
Stereo sound is considered special equipment and must be requested when your abstract is submitted. Please be specific about your audio needs, including number of channels and preferred loudspeaker arrangement.
POSTER SESSION EQUIPMENT
Poster boards and fastening materials will be provided. Poster boards are 8 ft. wide by 4 ft. high.
PROJECTION GUIDELINES FOR AUTHORS
A PC computer with monaural playback capability and projector will be provided in each meeting room on which all authors who plan to use computer projection will load their presentations. Authors should bring computer presentations on a USB drive to load onto the provided computer at least 30 minutes before the start of their sessions. Assistance in loading presentations onto the computers.
Note that only PC format will be supported so authors using Macs must save their presentations for projection in PC format. Also, authors who plan to play audio or animations during their presentations should ensure that their sound and animation files are also saved on the USB drive. They must also provide their own connectors.
Guidelines for use of computer projection will be supplied with acceptance notices.
AUDIO/VISUAL PREVIEW ROOM
Computer presentations can be reviewed by authors in the audio/visual preview room at the meeting
OTHER TECHNICAL EVENTS AND INFORMATION
EXHIBIT

An instrument and equipment exhibition will be located in the Summit foyer on the 4th floor and will open on Monday, 5 December, with an evening reception serving a complimentary drink. Exhibit hours are Monday, 5 December, 5:30 p.m. to 7:00 p.m., Tuesday, 6 December, 9:00 a.m. to 5:00 p.m., and Wednesday, 7 December, 9:00 a.m. to 12:00 noon.
The Exhibit will include computer-based instrumentation, scientific books, sound level meters, sound intensity systems, signal processing systems, devices for noise control and acoustical materials, active noise control systems, and other exhibits on acoustics.
Contact the Exhibit Manager for information about participating in the exhibit: Dan Cooke, Director of Advertising and Exhibit Sales, AIP Publishing, LLC, 1305 Walt Whitman Road, Suite 110, Melville, NY 11747-4300, Tel: 310-922-3902 (voice or text); E-mail: dcooke@aip.org.

SOLUTIONS SHOWCASE
In an effort to give industry members and supporting companies better visibility at the meetings, ASA is hosting the second Solutions Showcase in Nashville during the Fall 2022 meeting of the Society.  This will be an opportunity to present a product, service, or solution in a setting similar to a technical session, but without restricting the commercial character of the talk. We encourage current exhibitors, as well as others, to join in this event and share the development, technology, or performance of their product.
The list of presenters and abstracts can be found at Solutions Showcase Presentations.
Presentations in this event will not have a citation and are expected to be of a technical nature rather than with an emphasis on marketing. Practitioners will be especially encouraged to attend and interact with industry presenters. The Solutions Showcase is planned for Monday afternoon before the exhibit opening reception. for information about fees and participation options please contact Ana Jaramillo, ana@olsonsound.com

TUTORIAL ON EFFECTIVE MEDIA INTERACTIONS TRAINING WORKSHOP
The Public Relations Committee and the AIP Media Services team present this hands-on workshop for meeting attendees who are interested in effectively communicating scientific work to the public on  Monday evening, 5 December. This workshop counts as the required media training for anyone interested in serving as a media liaison for their Technical Committee. The workshop will consist of presentations by media professionals to provide a toolkit of techniques for engaging the media. Following that, small group activities will give participants an opportunity to discuss and apply those techniques in round table discussions and practice sessions with media representatives. Though not required, attendees may find it helpful to have prepared a one minute "elevator pitch" of their research and/or an email response to a media person who has just asked for an interview about a recent publication. These items can be honed during planned round table events. The registration fee is USD $15 (USD $7 for students with current student IDs) for preregistration up to 7 November and USD $25 (USD $12 for students with current student IDs).  Register for this event at the time you register for the meeting.

HOT TOPICS

A "Hot Topics" session sponsored by the Tutorials, Short Courses, and Hot Topics Committee will cover Noise, Physical Acoustics, and Structural Acoustics and Vibration.
OPEN MEETINGS OF TECHNICAL COMMITTEES

Technical Committees will hold open meetings on Tuesday, Wednesday, and Thursday evenings (6, 7, 8 December). These are working, collegial meetings. Much of the work of the ASA is accomplished by actions that originate and are taken in these meetings including proposals for special sessions, workshops, and technical initiatives. All meeting participants are cordially invited to attend these meetings and to participate actively in the discussions.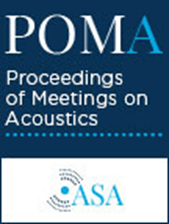 PROCEEDINGS OF MEETINGS ON ACOUSTICS (POMA)

All authors of Nashville meeting papers are encouraged to submit a pdf manuscript to ASA's Proceedings of Meetings on Acoustics (POMA). Things to note:
There is no publication fee, but presentation of the paper at the meeting is mandatory.
POMA does not have a submission deadline. Authors may submit manuscripts before or after the meeting; note, however, that review will not take place until after the meeting.
POMA has new Word and LaTeX manuscript templates and cover pages are now generated automatically at the time of publication.
Published papers are being both indexed in scholarly venues and highlighted on Twitter and Facebook.
Visit http://asa.scitation.org/pma/authors/manuscript for additional information, including recent changes to the manuscript preparation/submission process.

ITINERARY PLANNER, MOBILE APP AND MEETING PROGRAM

An itinerary planner and mobile app will be available for the Nashville meeting. A complete meeting program will be available at the meeting. Abstracts will be published on the ASA webpage in November.
Technical Tour of Belmont University
A technical tour of Belmont University is scheduled to be held on Thursday, 8 December, 3:30 p.m. to 6:15 p.m. (including travel time).  The tour participation fee is $10.00.
Located in the capital of music, Belmont University offers an impressive list of unique programs only available at a handful of colleges, including songwriting, music business, audio engineering, motion pictures, commercial music composition, and more. This technical tour will explore some of the world-class facilities at Belmont University.
The Fisher Center for the Performing Arts is a new $180 million multifunctional facility designed with a vision to be the best performance venue on any college campus in the world. Its 1,700-seat main hall is a "horseshoe" opera house form with multi-use acoustical capabilities that supports various programs, from musical theatre, opera, dance, orchestra, and choral performances to popular entertainment and special events.
The Belmont Large Theater is a 250-seat theater/mixing stage equipped with a state-of-the-art Dolby Atmos immersive audio system. The Dolby Corp. provided an Atmos Rendering and Mastering Unit (Dolby RMU) that allows faculty to teach the process of creating and compiling movies in Dolby Atmos, as well as traditional 7.1 and 5.1 surround sound formats. Belmont Audio Engineering and Motion Pictures were the first university-based programs capable of showing commercial films and developing and producing theater-ready films in the Atmos format in the world.
"Virtual Music Row" presents live music performed in the virtual acoustics of historic recording studios, reconstructed in the semi-anechoic chamber at Belmont University. This demonstration of the aural heritage preservation and access protocol funded by the National Endowment for the Humanities (NEH) includes discussion by project organizers Drs. Doyuen Ko, Sungyoung Kim, and Miriam Kolar about cultural heritage acoustics data collection and translation into scalable auralizations.
Proposed schedule:
3:30 p.m.         Gather in the Grand Hyatt lobby – exact location to be provided later
3:45 p.m.         Bus transportation from Grand Hyatt to The Fisher Center for the Performing Arts
4:00 p.m.         The Fisher Center Tour
4:45 p.m.         Walk to the R. Milton and Denice Johnson Center – approximately 10 minute walk
5:00 p.m.         Dolby Atmos demo at Large theater + "Virtual Music Row" demo at anechoic room
6:00 p.m.         Gather at the R. Milton and Denice Johnson Center lobby
6:15 p.m.         Bus transport back to Grand Hyatt
EARLY-CAREER ACOUSTICIANS RETREAT (EAR)
The Acoustical Society of America (ASA) seeks to engage and foster members by hosting the Early-Career Acousticians Retreat (EAR) 2022! EAR is a two-day workshop for early career professionals in the field of acoustics focused on career development and networking. The workshop will allow you to connect and socialize with your fellow early career acousticians as well as more senior members of the Society. You will learn more about the Society. Several workshops and roundtables will be held focused on collaboration, communication skills, leadership, and other topics to support your career development.
The workshop will be held at the Grant Hyatt Nashville Hotel in Nashville, Tennessee, beginning on Saturday, December 3rd, 2022 at 12:30 p.m. and ending on Sunday, December 4th, 2022 at 10:00 p.m.
Registration for all EAR 2022 participants will be $100. Registration includes all workshops and other activities as well as three meals. Travel reimbursements of $500 that can support lodging and transportation will be available for 30 registrants.
For full details including how to apply, please visit: https://acousticalsociety.org/early-career-acousticians-retreat/
FUNDING OPPORTUNITIES
STUDENT TRANSPORTATION SUBSIDIES
A student transportation subsidies fund has been established to provide limited funds to students to partially defray transportation expenses to meetings. No reimbursement is intended for the cost of food or housing. The amount granted each student depends on the number of requests received. To apply for a subsidy, submit a proposal by e-mail to be received by 7 November 2022 to: Jolene Ehl, jehl@acousticalsociety.org. The proposal should include your status as a student; whether you have submitted an abstract; whether you are a member of ASA; method of travel, and approximate cost of transportation.
YOUNG INVESTIGATOR TRAVEL GRANTS
The Committee on Women in Acoustics (WIA) sponsors Young Investigator Travel Grants to help with travel costs associated with presenting a paper at the Nashville ASA meeting. Young professionals who have completed their doctorate in the past five years are eligible to apply if they plan to present a paper at the Nashville meeting, are not currently students, and have not previously received the award. Each award will be approximately $500 with four awards anticipated. Awards will be presented by check at the WIA luncheon at the meeting. Both men and women may apply. Applicants should submit a single PDF file (named <last name>_ <first name>_YI.pdf) that includes 1) a paragraph explaining how this award will enable their attendance at the ASA meeting, 2) a copy of the abstract for their presentation at the meeting, and 3) a current resume/vita showing their involvement in the field of acoustics and in the ASA. The PDF file should be uploaded to https://womeninacoustics.org/funding-opportunities/. Deadline for receipt of applications is October 21, 2022.
DEPENDENT CARE SUBSIDIES
The Committee on Women in Acoustics (WIA) sponsors Dependent Care Subsidies to help offset dependent care costs associated with attending the Nashville ASA meeting. Meeting attendees are eligible to apply if they plan to present a paper at the Nashville meeting or hold a leadership position in ASA. Each subsidy will be approximately $500 with four awards anticipated. Both men and women may apply. Applicants should submit a single PDF file (named <last name>_ <first name>_DepCare.pdf) that contains the following: name, contact information/affiliation, title of presentation or leadership role and main technical committee(s), a paragraph describing current and past involvement with ASA, a paragraph describing how subsidy would offset dependent care expenses while attending the ASA, and an estimated budget for the trip (including other sources of available funding). The pdf file should be uploaded to https://womeninacoustics.org/funding-opportunities/. Deadline for receipt of applications is October 21, 2022.

STUDENT ACTIVITIES
FIRST-TIME ATTENDEE ORIENTATION AND MEET AND GREET
An orientation will be held from 5:00 p.m. to 5:30 p.m. on Monday, 5 December, for students and first-time attendees to learn about the activities and opportunities available for students and first-time attendees at the Nashville meeting. This will be followed by the Student Meet and Greet from 5:30 p.m. to 6:45 p.m. where refreshments and a cash bar will be available.
STUDENTS' RECEPTION
The Students' Reception will be held on Wednesday, 7 December, from 6:00 p.m. to 8:00 p.m. This reception, sponsored by Reality Labs Research, will provide an opportunity for students to meet informally with fellow students and other members of the Acoustical Society of America. All students are encouraged to attend, especially students who are first time attendees or those from smaller universities.
STUDENTS MEET MEMBERS FOR LUNCH (SMMfL)
A student in the SMMfL program meets one-on-one with an ASA member over lunch during the ASA meeting. The purpose is to encourage students, as they embark on their acoustical careers, to network with more senior members. Each lunch pairing is arranged to ensure a good match between the student's and member's acoustical interests. Each participant pays for his/her own meal. Students who wish to participate should check the SMMfL check box in the on-line preregistration form. They will be contacted later for additional information to assist with the matching process. The Students Meet Members for Lunch program is sponsored by the Committee on Education in Acoustics.
STUDENT OUTREACH FOR NETWORKING AND INTEGRATING COLLEAGUES (SONIC) PROGRAM
SONIC is designed to intended to introduce new student members to more experienced students who can serve as mentors and help them navigate the conference and ASA as a whole. More information and registration can be found at https://asastudents.org/programs/sonic/.
OTHER INFORMATION FOR STUDENTS
Students are also encouraged to visit the official ASA Student Home Page at https://asastudents.org, where you can meet the Student Council members, find out more about student events, view FAQs about meetings, and more.

PLENARY SESSION, AWARDS CEREMONY, SOCIAL EVENTS, LUNCHEONS
PLENARY SESSION AND AWARDS CEREMONY
The ASA Plenary session will be held Wednesday afternoon, 7 December, where Society awards will be presented and recognition of newly elected Fellows will be announced.
SOCIAL HOURS
Two socials with complimentary buffets and cash bars will be held on Tuesday and Thursday, 6 and 8 December, at the Grand Hyatt Nashville Hotel.
The ASA hosts these social hours to provide a relaxing setting for meeting attendees to meet and mingle with their friends and colleagues as well as an opportunity for new members and first-time attendees to meet and introduce themselves to others in the field. A second goal of the socials is to provide a sufficient meal so that meeting attendees can attend the open meetings of the Technical Committees that begin immediately after the socials.
WOMEN IN ACOUSTICS LUNCHEON
The Women in Acoustics luncheon will be held on Wednesday, 7 December. The fee is USD $25 (students USD $15) for preregistration by 7 November 2022 and USD $35 (students USD $15) at the meeting. Those who wish to attend this luncheon must register online at AcousticalSociety.org.
SOCIETY LUNCHEON AND LECTURE
A Society Luncheon and Lecture sponsored by the College of Fellows will be held Thursday, 8 December, at 12:00 noon. This luncheon is open to all attendees and their guests. The lecture topic and speaker will be announced at a later time. Register online by 7 November 2022 at https://AcousticalSociety.org. Ticket cost is USD $40.00 each.
JAM SESSION
The College of Fellows will host the ASA Jam Session on Wednesday, 7 December, at 8:00 p.m. Bring your axe, horn, sticks, voice, or anything else that makes music. Musicians and non-musicians are all welcome to attend. A full PA system, backline equipment, guitars, bass, keyboard, and drum set will be provided. All attendees will enjoy live music, a cash bar, and all-around good times. Don't miss out.
TRANSPORTATION AND TRAVEL INFORMATION
AIR TRANSPORTATION
Nashville International Airport (BNA) (link: https://flynashville.com/) serves all major US airlines and some international carriers.
GROUND TRANSPORTATION
Ground transportation options include Taxis (From the airport, the meter starts at $9 and the rate is $2.50 per mile. There is a flat rate of $30 to the downtown area), Uber, and Rental Cars and Airport Shuttles & Ride Shares
PARKING RATES AT THE GRAND HYATT
Valet Parking:  $48.00/day
HOTEL RESERVATION INFORMATION
A block of guest rooms at discounted rates has been reserved for meeting participants at the Grand Hyatt Nashville Hotel. Early reservations are strongly recommended. Special ASA meeting rates are not guaranteed after Tuesday, 14 November 2022 at 11:59 p.m. CST (Central Standard Time)
Grand Hyatt Nashville Hotel (link to https://www.hyatt.com/en-US/hotel/tennessee/grand-hyatt-nashville/bnarn)
1000 Broadway, Nashville, Tennessee, United States, 37203; +1 615 622 1234
HOTEL POLICIES
Check in time: 4:00 p.m./Check out time: 11:00 a.m.
Departure dates will be verified upon check-in. Early departure fee of $75.00 will be charged for departures prior to the attendee's scheduled check-out departure date without having notified the Hotel by 12:00 midnight the day after check-in.
A credit card must be presented at check in. Guests addresses and e-mail addresses are also required.
RESERVATION PROCEDURES
Online Reservations
Reservations can be made directly online at the website listed below.
https://www.hyatt.com/en-US/group-booking/BNARN/G-ASOA
Telephone Reservations: +1 (888) 591-1234
Online reservations are recommended. When making reservations by phone you must mention that you are with the Acoustical Society of America group to obtain the special ASA room rates:
ROOM RATES
Single/Double: $225.00; Triple: $250.00: Quad: $275.00
The Guest Room Rates are quoted exclusive of any applicable taxes (which are currently 15.25% plus $2.50 city tax per night), Applicable service fees, and/or Hotel-specific fees in effect at the time of the Event.
Reservation cut-off date: Tuesday, November 15, 2022, at 11:59 PM  (CST) Central Standard Time
GENERAL INFORMATION
ROOM SHARING
ASA will compile a list of those who wish to share a hotel room and its cost. To be listed, send your name, telephone number, e-mail address, gender, smoker or nonsmoker preference, not later than 7 November 2022 to the Acoustical Society of America, by e-mail, asa@acousticalsociety.org. The responsibility for completing any arrangements for room sharing rests solely with the participating individuals.
SPECIAL ACCESSIBILITY
Meeting attendees who have special accessibility requirements, should indicate their needs by informing ASA at asa@acousticalsociety.org not less than 45 days in advance of the meeting. Please provide a cell phone number, e-mail address, and detailed information so that we may contact you directly.
MOTHERS ROOM
A Mothers Room for ASA meeting attendees will be available Monday to Friday, 5-9 December.
ACCOMPANYING PERSONS PROGRAM
Accompanying Persons and other visitors are welcome at the Nashville meeting. The registration fee for accompanying persons is USD $200 for preregistration by 7 November 2022 and USD $250 thereafter, including on-site registration at the meeting. There will be a hospitality room in the hotel for participants.
WEATHER
In December Nashville has an average high of 50°F and an average low of 33°F. There might also be a small chance of rain. Attendees should pack a warm jacket and umbrella.
REGISTRATION INFORMATION
Register for the Nashville meeting now
The registration desk at the meeting will open on Monday morning, 5 December. Register online at http://AcousticalSociety.org. If your preregistration is not received by 7 November 2022 you must register on-site.
Registration fees for remote presenters and participants are included in the chart below.  There are no preregistration fees for remote participation.  The fees are Regular Registration: $150; Students: $50 and Nonmember Invited Speakers – Fee waived. Remote registrants will receive links to access all hybrid sessions in November.
Registration fees are USD as follows:
CATEGORY

PREREGISTRATION

By 7 November

ONSITE

REMOTE

by 28 November

 
 
 
 
  ASA Members
$675
$775
 
  ASA/ Members One-Day Attendance (1)
$325
$425
 
  Nonmembers
$825
$925
 
  Nonmembers One-Day Attendance
$400
$500
 
  Remote: Regular Registration
—
—
$150
  Nonmember Invited Speakers One-Day Attendance (1)
$ 0
$ 0
 
  Nonmember Invited Speakers-Full Week
$400
$400
 
  Remote: Nonmember Invited Speaker
—
—
$ 0
  ASA Early Career Associate or ASA Full Members (Members within 3 years of their most Recent degrees—proof of date of degree required)
$325
$425
 
  ASA Student Members (must show current Student ID)(2)
$150
$200
 
  Nonmember Students (must show current Student ID)(2)
$250
$300
 
Undergraduate Students (must show current Student ID)(2)
$25
$25
 
 Remote: Students
 
 
$50
ASA Emeritus Members (Must hold Emeritus status in advance of the meeting)
$200
$250
 
Accompanying Persons (Registrants who will not participate in the technical sessions)
$200
$250
 
Nonmembers who register for the full meeting week and simultaneously apply for Associate Membership in the ASA are entitled to USD$50 discount off their dues payment for 2022. Invited speakers who are members of the Acoustical Society of America are expected to pay the registration fee, but nonmember invited speakers may register for one-day only without charge. A nonmember invited speaker who pays the full-week registration fee, will be given one free year of membership upon completion of an application form.
Note: A USD $50 fee will be charged for in-person cancellations after 7 November 2022. A $50 fee will be charged for remote cancellations after 28 November.
Registration Policies:
One-day registration: For participants who attend the meeting for one day only. If you will be at the meeting for more than one day either presenting a paper and/or attending sessions, you must register and pay the full registration fee.
Students: All students must show a current (issued in 2022) student id card or verification of student status from the university attended on university letterhead in order to be eligible for student fees. If proof of student status is not available, the full registration fee must be paid.
Emeritus Members: Only ASA members who hold emeritus status prior to the meeting are eligible for this rate. It is not possible to transfer to emeritus status at the meeting.
Accompanying Persons: These are attendees who will participate only in the Accompanying Persons Program. Acoustics professionals, who participate in the technical program, i.e., present papers, attend sessions, and/or listed as coauthors on abstracts are not eligible for this registration rate.